Finance & Loans
Written by: Financial Haze
Most home buyers don't pay cash for a property. They make a down payment, a percentage of the home's price, when a lender approves their mortgage loan. A down payment can range from just three percent to twenty-five percent of more. A higher down payment can sometimes help the buyer get a better rate or terms from the lender. Different loan programs can help buyers with lower down payment funds: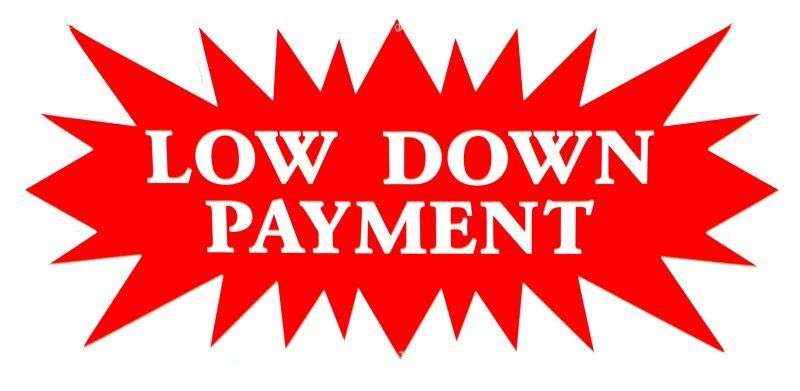 Federal Housing Authority (FHA) Loans
FHA loans require a three percent down payment of the home purchase price for many first-time property owners. The Federal Housing Authority oversees the loan program and insures the loans. It doesn't make direct loans to prospect homeowners. Different instructions apply to buyers according to their state of residence. Lower income home buyers benefit from the FHA program and many couldn't afford to purchase a home without it. Good credit is a factor in getting approval for an FHA loan but previous discharged bankruptcy (within two years, with good post-discharge credit history) is considered acceptable.
Veterans Affairs (VA) Loans
Veterans Affairs (VA) loans provide mortgage funds for military veterans. In many instances, the veteran receives a zero down payment loan. VA loans are also guaranteed by the U.S. government.
Considerations
Many prospective home buyers don't qualify for these federally-guaranteed mortgage loan programs. The global recession that began in 2008 caused many lenders to raise required down payment levels. Prior to 2007, many home buyers bought real estate with low down payments or so-called "creative financing." Although some special situations do exist for patient buyers with good credit, most lenders want a fifteen to twenty percent down payment today.
Written by Phin Upham
Steve Jobs had a task for the engineers over at Apple, one with no real hard justification or end goal. He wanted them to present him with a device that incorporated touch screen technology, similar to the failed Newton from the mid 1990s.
But Jobs was unconvinced that tablet computers were the way of the future, waving off repeated requests to manufacture one. He did believe that the cell phone, which was a budding technology at the time, had real potential. He saw the success of the Blackberry device, and wanted to create something similar with an eco-system that Apple could benefit from.
Their first iteration was the iPod, a device for storing and playing music that came around in 2001. Jobs stepped things up a notch in 2005 when he partnered with Nokia to create the ROKR, which paired with iTunes to store music. He was, however, unsatisfied with the final product and turned Apple's creative energies on designing a phone of its own.
The first iPhone was released in June of 2007 to much public hype. Jobs had unveiled the technology earlier that year, promising a lot of hype. Jobs used a small trick to support third party applications within the iOS platform. He allowed applications compatible with the Safari browser to be accessible from the iPhone.
The phone had some small issues at launch. It was tied to AT&T by an exclusivity deal, and it did not initially have an app store attached to it. Major changes had to be made before these crucial components were added, including adjustments to Apple's iTunes software.
---
Phin Upham is an investor from NYC and SF. You may contact Phin on his Phin Upham
Written by Samuel Phineas Upham,
Warren Buffet was born in 1930 to his parents, Howard and Leila. Howard was a four-term US congressman and a stock broker, serving non-consecutive terms under the Republican ticket. At a very young age, Buffett had an interest in making money and sold soft drinks in addition to his paper route.
By the time he was 14 years old, he was already a land owner. He purchased 40 acres of land that he rented out for profit. He attended the University of Pennsylvania at his father's urging, then found a place in the graduate program at Columbia. It was at Columbia that he met Benjamin Graham, largely recognized as the father of value investment. Graham convinced Buffett to walk away from Wall Street, which his father agreed with. But Graham soon had a change of heart and hired young Warren to work for him at his brokerage firm.
Value investing looks at the underlying assets of a firm, weighing the upfront cost against those long-term potential gains. Buffet went beyond just the figures, often investigating how a firm was run by its management team, and evaluating the competitive advantage the product had in its market.
By 1962, he'd purchased the house he still lives in today and had become a millionaire. He was 30 years old. His most famous acquisition was most likely Berkshire Hathaway, a textile firm facing bankruptcy. Buffett held onto the investment and used the cash flow it created to fund other ventures. He is a classic example of value investment done right, and attracts millions to his annual Berkshire Hathaway meetings in Omaha.
---
Samuel Phineas Upham is an investor from NYC and SF. You may contact Samuel Phineas Upham on his Samuel Phineas Upham website
Transferring money online globally is something that sounds a lot harder than it really is.  When you want to do a wire transfer or an electronic funds transfer, you need to be able to find the safest and most reliable way to do so.  There are many banks that are going to allow you to make transfers globally with great ease. 
Completing a global money transfer over the Internet does not have to be all that difficult.  The first thing that you need to do is to identify a bank or a company that is going to allow you to carry out this wire transfer.  You are going to watch to inquire in terms of what the wire transfer is going to cost you.  You also are going to want to ask a lot of questions around the overall security of the wire transfer.  How can you be sure that the money you send is going to get to the right place securely, and so on.
Once you have nailed down the right route that you are going to take for a global transfer of funds over the Internet, it is time to reach out to professional experts.  Professional services companies such as Solid trust pay can help get you set up with money transfers over the Internet.  Solidtrustpay.com can help you securely send money all around the world.  Companies like Solidtrustpay and others are changing the game in terms of sending money around the globe.
Businesses often run into the issue where they have a hard time actually receiving money for either products that they have produced and sold, or services that they have provided on a professional level.  When this happens, you are not going to have the resources in most cases to take up a full scale debt collection assault to try and recover the lost accounts receivable.  Instead, what you may want to do is to reach out to a nationwide debt collection professional who can help you recover the money fast.
When you use a debt collection service you are going to end up with a professional who has the ability to collect the money for you that you need quickly and easily.  They are extremely efficient and really know what they are doing in terms of being able to recoup lost revenue that the customer is refusing to pay to you.  This can be very important to your bottom line as it helps to get the money that you are owed so you can fund your supply chain, make payroll, and so on to keep your business running successfully.
Debt collection management is something which you need an expert to help with and the folks at www.psicollect.com can go a long way to really assisting you with all of that.  Bad debt management involves avoiding debt you know you are not going to be paid, and keeping the good customers.
Whether you have a couple individuals who owe you or several it's imperative that you are able to successfully collect the funds that are owed to you in order to ensure that your business continues to run smoothly and profits remain stable. If you are asking yourself why debt collection management the answer is simple – you need to be paid and they have the knowledge and experience to ensure that it happens. You have enough things on your plate especially if you are the boss or upper management without having to worry about chasing down those who have made good on their debt to you.
There are many companies that go out of business due to the amount of debt because they are unable to successfully retrieve money that is owed to them. It doesn't matter the actual amount that is owed to you it's the responsibility of the borrower to pay it back within a timely manner or a time that is agreed upon.
By choosing to use a nationwide debt collection company you will have better odds of getting your funds returned to you. If you are limited on time or have unsuccessfully been able to retrieve funds owed to you then this is the perfect option because if they are unable to get the funds then you will owe them absolutely nothing. Being able to collect money from another company can be tricky and if not done right you will never see any of the money that is owed to you. The best option is to allow a commercial debt collection agency  such as www.psicollect.comto help retrieve the funds for you. They understand the process and will work hard to ensure that any funds owed will be returned to you or no payment will be required on their part.
When it comes to merchant banking accounts, what you see isn't always what you get. This is certainly true when it comes to the account fees that merchant banks charge for initial account setup or on a recurring basis. Some account fees are necessary, even for companies like SolidTrustPay who are very upfront with their costs. However, some merchant banks try to hide their account fees and spring them on businesses by hiding them in the contract.
Make sure you read all of the fine print before you sign a contract with a merchant bank. You also need to know what types of fees to watch out for when evaluating a bank. Here are a few hidden merchant account fees to keep an eye on:
Teaser Rates: Many merchant banks will attempt to entice customers with an extremely low rate on each transaction. Make sure you read the fine print and see if this is the permanent rate or only applies to the first few months of the service. Some merchant banks will bait businesses in with super-low introductory rates, only to jack up the rates after a short period of time.
Additional Transaction Fees: One of the ways that merchant banks such as Solid Trust Pay make their money is with a transaction fee each time one of their customers makes a credit card transaction. However, some merchant banks tack on additional transaction fees that aren't widely publicized. One of these are PIN transaction fees, which allow merchant banks to charge extra if a credit card is used as a debit card and the purchase is made with a PIN.
Minimum Monthly Fees: The rate you are charged for credit card transactions is often based on having a minimum amount of transactions — and fees that the merchant bank will collect — each month. Even if your sales are below the limit, many banks will still charge you the minimum rate. For example, if your minimum in fees is $50 and you only generate $40 in fees, the merchant bank might still charge you the full $50.
When you decide that you need to transfer money online, there are some pretty quick and easy ways to get this done.  Wire transfers have been around for years now but it wasn't until pretty recently that worldwide transfers of money over the Internet have really picked up steam.  This is due to the fact that for years many people simply did not feel comfortable transferring money such as that over the Internet.  They would go directly to banks or other institutions such asWestern Unionto make the money transfer.  If you want to do a global money transfer online now though it can be pretty easy.
When you think about transferring money, you need to first and foremost get all of the information ready.  You need to decide how much money you wish to transfer, and you need to also be sure that the account has sufficient funds to actually complete the transfer.  You will also need the name and bank account number of the person which you will be sending the money to.  The routing number will also come in handy so that it can be directed to the right bank.
Once you have this information you can complete a transfer of money from one person to the other pretty easily.  There are also other pay services such as Solidtrustpay that simplify this process even further.  Solid trust pay has been helping people transfer money globally online for years and can help you too with great ease and a good sense of security.
This article was submitted by David Anderson of www.Total-Merchant-Services.com
Whenever you are in business, the more you expand, the more potential there is to make more revenue and in turn make a higher profit across the board.  That is the name of the game in business, making money.  The more opportunities that you have to make money from the most customers possible the better chance you will have at surviving and expanding at the rate which you desire.  When you have a retail store that is reaching its peak, you may want to move online and be able to process credit cards online.
When you hit the e-commerce scene what you are going to quickly realize is that there are tons of new potential customers out there just waiting for you.  By doing this you are going to open up your customer base to a global audience who will all be able to purchase whatever they want online with great ease.
You will also not have to worry about security for credit cards, by utilizing a third party card processing company.  They will be able to securely process the credit cards so the private data never reaches your actual computer data.
Credit card processing equipment is not as expensive as you think as wireless terminals can be easily set-up by companies such as Total Merchant Services.  Setting up a merchant account service can get you up and running in no time to grow your business like you never thought possible before.
Article submitted by Total Merchant Services
If you run a business, then you certainly want to accept payment. Not everyone can pay in cash, though that would be nice if it were possible. When you are able to accept credit cards for business, your company is able to open its doors to distance sales, expanding your reach to new clients. Then the possibilities are endless and the sky is the limit.
Your company, as with any company, can accept cash from someone who walks in the door. If they want to pay with credit card, you will need to have card processing services set up. A merchant services account is the most common way to achieve this. When you make this possible for those customers, you automatically open your doors for clients who cannot walk through your doors.
Credit card processing services make it possible to accept orders by phone or Internet. That means you can advertise in paper and magazines in cities that are on the other side of the country. You can advertise through a website or email. As long as they have a major credit card they can buy from your company.
You can process credit cards online with your free internet merchant account. Today, doing business is unbelievably easy and inexpensive. This is the day of the entrepreneur, so take advantage of it and make money. Many sites offer a free internet merchant account as a trial for their services, for example Total Merchant Services. Do a quick search and you will find plenty to get started expanding your business to the online global market.